It's that time of the year when numerous executives in English-speaking parts of the world are receiving emails from a "prestigious magazine," congratulating them on making the list of candidates for publication in it. I got one too: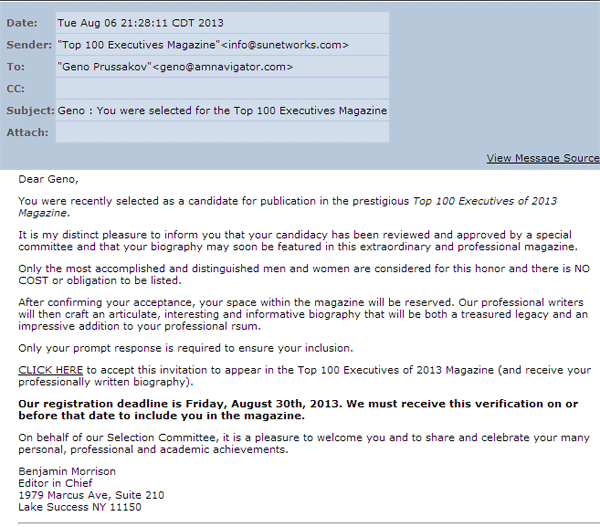 Three problems on the very surface of it:
1. It came from info@sunetworks.com and sunetworks.com domain resolves to a one-page website which at the time of this post has one word: "Hello." Also, the domain information is protected (read: all real contact info hidden) by Whois Privacy Protection Service, Inc.
2. When I search for "Top 100 Executives Magazine" I find another one-pager – top100executivemagazine.com – which hosts a form to harvest personal information.
3. CAPS and UNDERLINED CAPS isn't normally a part of a serious "professional magazine" orthography.
Furthermore, if you dig a little deeper you will realize that this is a classic spear phishing scam which "lures professionals into parting with personal information, such as phone numbers, email addresses and job titles, by appealing to the executives' vanity." [source]
If you get an email like this, take a deep breath and breathe out. Relax. You haven't been shortlisted for anything. Just steer clear of Benjamin Morrison's email.