I started this year by speaking at Affiliate Summit West 2014 in Las Vegas (Jan 12-14), followed by Affiliate Management Days 2014 speaking appearances in San Francisco (Mar 18-20) and London (May 13-14), and then also at Performance Marketing Insights Europe in Berlin (June 24-25), and Affiliate Summit East 2014 in New York (Aug 10-12).
After a bit of a break, I have a few new speaking appearances coming up (one – as early as tomorrow). Here is the information on all of them:
WEBINAR:
Date: October 14, 2014
Time: 1:00-2:00 pm ET
Place: Online | Register here
Title: "Top Myths & Misconceptions About Affiliate Marketing"
Description: I will take you through some of the most popular myths and misconceptions surrounding affiliate marketing, analyze and debunk them, and help you get the most out of your affiliate marketing endeavors. The webinar is kindly sponsored by Avangate (who also sponsored my 2012 webinar and the 2013 one were I co-presented with CNET).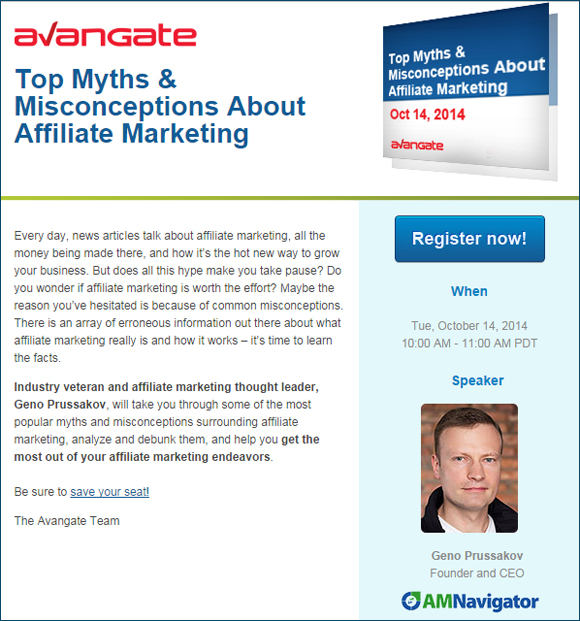 TV SHOW:
Date (of recording): October 22, 2014
Date (of broadcast): TBA
Time: TBA
Place: NTV America, New York, USA
Title: Dedicated interview in show "Persona Grata"
Description: Leading up to being awarded my Small Business Influencer of 2014 trophy later that evening, NTV America's Sergey Gordeev will interview me in/for his NTV America "Persona Grata" show. The channel is a Russian-language one. If this if of interest to you, check back here close to the end of October or beginning of November. I'll post a link here.
CONFERENCE PANEL:
Date: October 23, 2014
Time: 1:00-1:45 pm ET
Place: ASCEND Summit, Philadelphia, USA
Title: "Affiliate Marketing – Live and Uncut"
Description: Looking to get more bang for the buck from affiliate marketing? Grill our team of experts and have your pressing questions answered. This interactive session promises to be invaluable for affiliate newbies and veterans alike. More here.