Earlier this year, I spoke at the legendary Affiliate Summit in New York City, NY. This was my nineteenth time speaking at this major affiliate marketing conference. My 30-minute speech was entitled "Evergreen Techniques to Rock at Affiliate Marketing" and it was devoted to a number of practical approaches to turbocharging affiliate marketing campaigns. Coincidentally, a summary of the same by a third party came out just earlier today.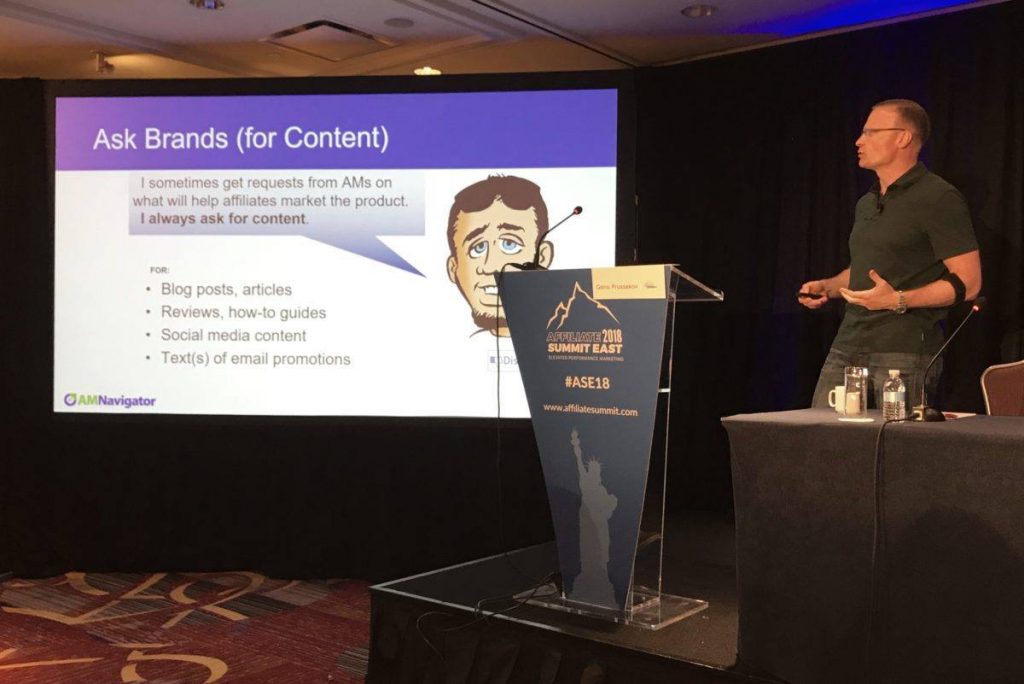 At the end of every session Affiliate Summit asks attendees to provide their feedback on the speaker and the content presented. Later on, they share these comments with the speakers – a great way to help us learn what we can do better next time we're on this conference's stage.
As for my above-quoted speech, here is all of the feedback that I received (in the [unedited] words of the audience).
Reviews on Affiliate Marketing Speaker Geno Prussakov
Really appreciated that he shared his slide deck from the get go. Covered a wide variety of suggestions and evergreen techniques.
Wish it was longer so we could get more in depth.
Very clear an specific examples.
Session too short. So much great content here. Wish the speaker had more time to elaborate on each point.
Very good. I hope you'll have him back and give him more time.
Lots of information – spoke incredibly fast.
Actionable advice, for sure.
Needs more time.
I found this very interesting from the affiliate manager side – helps to better understanding what affiliates need from us to be more successful.
Felt very fast.
This one could have been an hour session. Good info.
It's tough to get in depth on 11 items with such short time. Good tips though, just wanted more details.
Geno ALWAYS has actionable insights. I try to never miss his sessions at Affiliate Summits.
Good speaker, content more for affiliate/publisher vs. merchant.
Good info. We are a merchant, I felt this was geared much more for publishers.
Good content, but 30 mins was too short for details on all 11 techniques.
Less points and more details would be good for 30 mins, or more time for all 11 points.
Good content, good delivery, on time!
Great!
Impressive.
Too short.
Too short and condensed. Would have been better to spread the session over an hour.
Great content. Would love it be more in depth.
I personally can't help but love those "too short" comments. It's always best to leave the audience (hungry for more) than feeling "stuffed". Yes, an hour would've been better but more susceptible to a "cognitive backlog" though.
If you need a speaker for your event, check out my speaker profile and testimonials here and here and email me if you're interested in a truly memorable keynote speech for your event, a seminar (or training session), or anything else.
---
Disclosure: If you click some of the links in this post, and convert into a customer, I may be compensated for this. Regardless, I only recommend products and services that I use personally and believe to be of value.