Whether you're dying to learn where I'm speaking next, or not, I'm gonna tell you anyway. After all, this is what this website of mine is for.
In the course of the following two months I will speak at three different conferences. Here's the information on them (together with short descriptions of what to expect from my appearances at them):
Affiliate Management Days (Ft. Lauderdale, FL, Oct 9-10, 2012)
First off, less than two weeks from now I'll be speaking at the affiliate management conference I'm chairing. At Affiliate Management Days (AM Days) I'll be the host and the "conductor", opening it up, setting the tone for each of the two conference days, and gearing throughout.
To get a feeling of what to expect from this one-of-a-kind conference see the agenda here.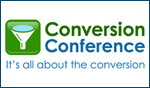 Conversion Conference (Ft. Lauderdale, FL, Oct 10, 2012)
This conference will be co-located with my AM Days, and I'll be the only person tackling the subject of affiliate marketing. My session is entitled "What Makes Them Tick? How Knowing Your Affiliates Can Increase Conversions." Over the years I've seen too many merchants blaming the affiliate channel for not working, of working poorly; yet doing nearly nothing to facilitate better conversions. I'll walk you both through the fundamental principles to understand, as well as provide you with immediately applicable ways to improve the conversions in your affiliate program.
ad:tech NY (New York, NY, Nov 8, 2012)
This one I'm especially excited about. Not only will this be my first ad:tech ever, but ours will be the only session on affiliate marketing (out of 35). "Ours" because it will be a panel (with Bob Glazer moderating, and other panelists including Brian Littleton and Samantha Howe). Title: "Affiliate Marketing Revisited: How Top Brands Are Rethinking & Refocusing Affiliate Programs." If you want to learn how to protect and enhance your brand with affiliate marketing, how to build your affiliate team wisely – to get more out of your affiliate program, come to our session.
I also have a special code for you to use to receive 25% off your full conference pass. What you need to do is start here, and when during the registration process you are asked for Discount Code, enter this SPKRGUESTNY25. Registering on or before November 6th will save you most on your pass.
Hope to see you at these conferences! I'll be giving out copies of my "Affiliate Program Management: An Hour a Day" at each!